DOWNLOAD Pure Win App for Android & iOS
Great things are coming – the unique mobile application is now available! Our Pure Win app is available for all users – both iOS and Android players can download our application in English, Hindi, Telugu, and Kannada.
Access to a fully optimized gaming library, the ability to fund your account using fiat and cryptocurrencies, spectacular bonus promotions, and live chat support are the perks of our new app for iOS and Android. Download the mobile application through a trusted site and enjoy your advanced gambling experience.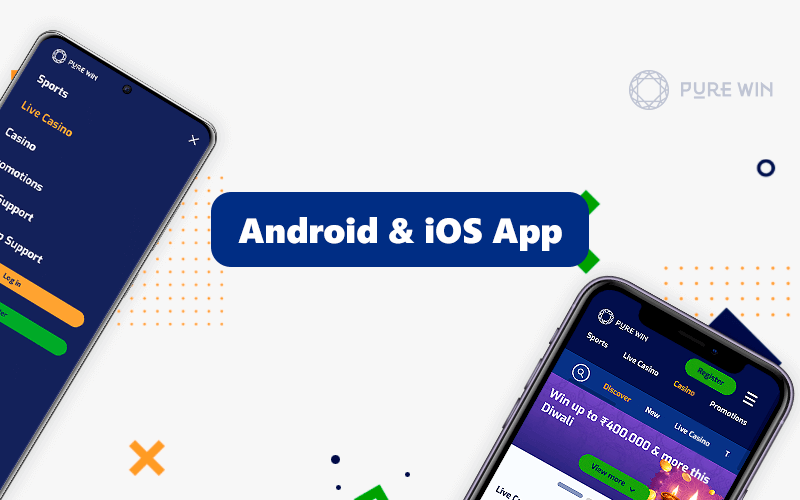 How to Download Pure Win App for Android?
Given that you own an Android smartphone and our software is next on your install wishlist, but you're unsure how to do that, we have prepared a step-by-step installation guide.
You need to know that Google doesn't allow any casino or betting content on its Google Play Store. That means that you will have to download the application file on your own.
One should always find the application from a trusted website. We do not recommend getting a download package from an unknown source. You can find the official Pure Win Apk on our website.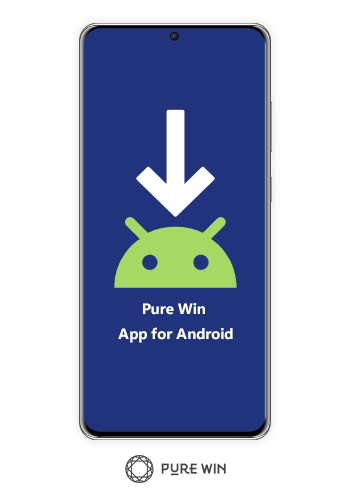 Download Guide:
Click on the Download link;
Confirm the download by clicking OK;
Once the download process finishes, you should click Open;
If you have allowed installation from unknown sources, you can skip the next step;
If you haven't, a pop-up will lead you to allow installation from unknown sources;
Check the box to allow;
Find the downloaded package and click install;
If you're having trouble locating the downloaded file, head to Downloads;
Once you find the downloaded package, click on it, and then choose Install;
Your phone might ask you for certain permissions, click "Allow All";
As soon as the phone finishes the installation process, it will allow you to open the application.
If you encounter any downloading issues, you should check your network connection and try again. If the problem persists, you should not hesitate to contact us.
If you encounter any installing issues, you should first check whether your Android fulfills the minimum system requirements. If that's the case, and you've followed the above instructions, and you're still encountering issues, you can contact us through live chat or email, and we'll be happy to assist.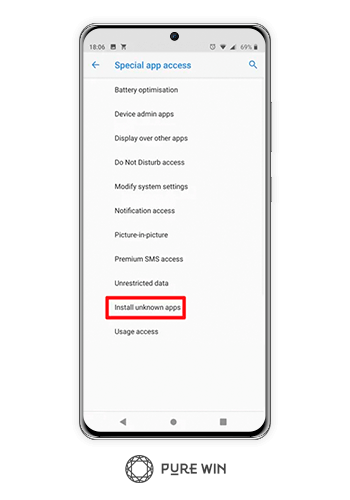 System Requirements for Android
Your Android device should fulfill the following minimum system requirements:
| | |
| --- | --- |
| OS | Android 4.1+ |
| Available Storage | 50 MB |
| RAM | 2 GB |
| Processing Unit | 1.1 GHz |
| Network Connection | WiFI or 3G |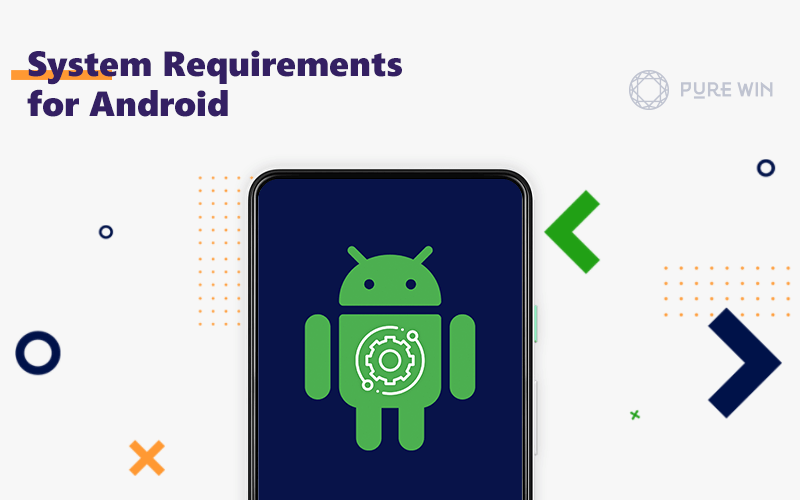 List of Compatible Android Devices
If your device is compatible with the minimum requirements listed, you will most likely be able to download our software.
This is the list of some of the many compatible Android smartphones:
Huawei P30 Pro
Huawei Mate 20 Pro
Samsung Galaxy S10+
Samsung Galaxy Note9
Samsung Galaxy A32 5G
Samsung Galaxy M52 5G
Xiaomi Mi 11
Xiaomi Poco F3
Xiaomi Redmi Note 10 Pro
Asus ROG Phone 5
Sony Xperia 1 III
Motorola Moto G Stylus 5G
Motorola Moto G9 Play
OnePlus Nord N100
OnePlus Nord N200 5G
Google Pixel 5A 5G
Google Pixel 6 5G
OnePlus 9 Pro
Oppo Find X3 Pro
BLU G91 Pro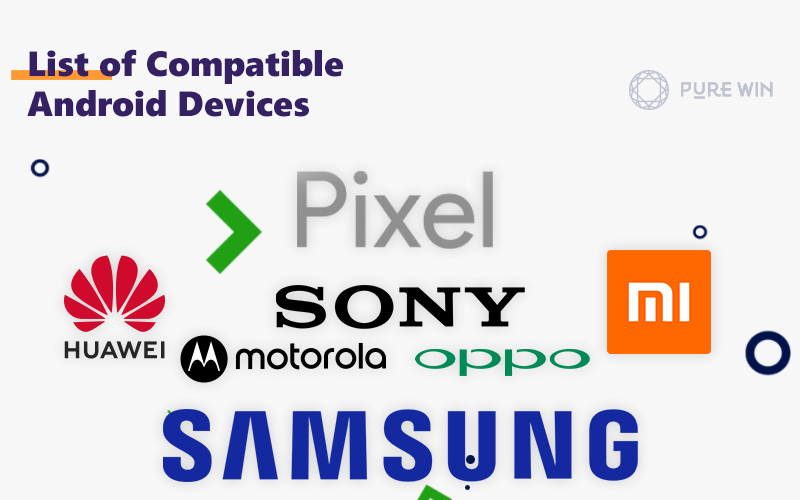 How to Update the App to latest version?
Given that the download process is completed, once you open the application, we will let you know if there are any updates available. You should agree to download and install the latest update. By having the new version installed on your phone, you will have access to all the perks of online gambling.
It is out of utmost importance to keep your Pure Win app up to date. We do not recommend you postpone the updates. An outdated program might not function correctly.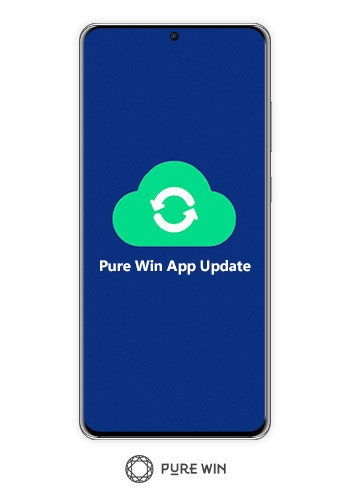 Download Pure Win App for iOS
Downloading the Pure Win Application for iOS is a simple process. You will find it available on the Apple App Store.
In order to properly install the app on your iPhone or iPad, follow the detailed guidelines:
Navigate to the Apple App Store;
Enter "Pure Win" in the search query;
Click on our app and click install;
Confirm the installation by providing your Apple credentials;
The downloading process will start shortly;
Once the download is complete, a pop-up will appear;
Choose Install;
You've successfully installed the program.
If you encounter any downloading issues, make sure to double-check your Internet connection or switch to mobile data and try again. If you encounter the same problem, let us know.
System Requirements for iPhone & iPad
If you have trouble with the installation, check whether your iPhone or iPad meets the minimum system requirements.
| | |
| --- | --- |
| iOS version | iOS 8.1 |
| Available Storage | 50 MB |
| RAM | 2 GB |
| Processing Unit | 1.1 GHz |
| Network Connection | WiFI or 3G |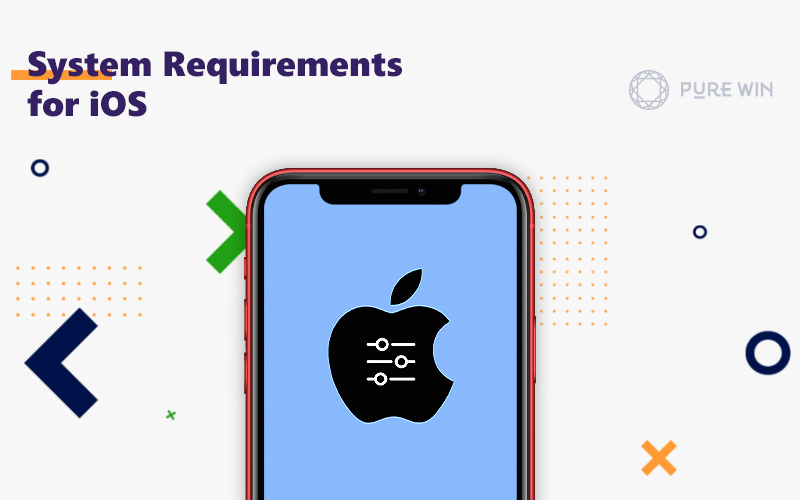 List of compatible iOS devices
Following is the list of all compatible iOS devices:
iPhone 4S
iPhone 5, 5c, 5s
iPhone 6, 6 Plus, 6s, 6s Plus
iPhone SE (First generation)
iPhone 7, 7 Plus
iPhone 8, 8 Plus
iPhone X, XR, XS, XS MAX
iPhone 11, 11 Pro, 11 Pro Max
iPhone SE (Second generation)
iPhone 12, 12 mini, Pro, Pro Max
iPhone 13, 13 mini, Pro, Pro Max
iPad (5 Gen – 9Gen)
iPad Mini (5th Gen, 6th Gen)
iPad Air (3th Gen, 4th Gen)
iPad Pro (1st Gen, 2nd Gen, 3rd Gen, 4th Gen, 5th Gen)
How to Start Play with the Application?
To register at Pure Win, you need to access our website or open the app:
Tap on the Sign In button;
Fill in the required info & tap continue;
Fill in the additional info;
Agree with the Terms & Conditions by ticking the required boxes;
You've just registered your casino account.
In order to prove your identity and to verify your account, we might ask for further proof, such as an ID card or passport.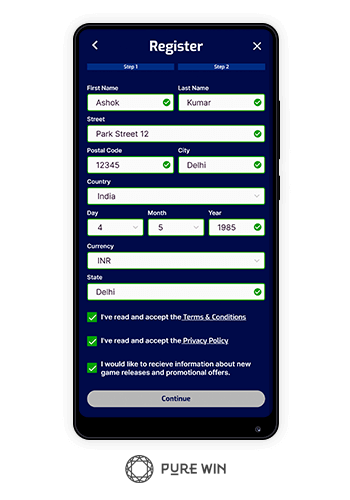 Characteristics of the App
The whole game library is now available on your mobile device. The mobile app will take as little storage as possible on your gadget – you won't be able to tell the difference. The software is designed to fit any screen size, and it can adapt to the screen resolution right after the first click. You will not feel any lag – the loading time is almost instant!
The main condition to install Pure win app is to have a device that has adopted the system requirements. If your device already has other programs installed, you'll be able to install our software as well.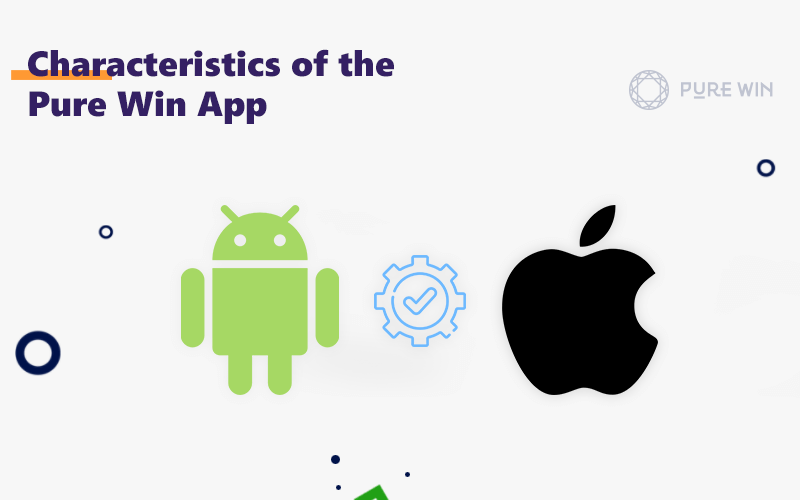 | | |
| --- | --- |
| Application version | 1.0 |
| Supported operating system | Android, iOS |
| Availability on Google Play | No |
| Size of APK file | 4.3 MB |
| Availability on Apple Store | Yes |
| Downloading price | Free |
| Age restrictions | 18+ |
| Access to betting | Yes |
| Access to live streaming | Yes |
| Access to casino | Yes |
| Deposit Bonus | Up to ₹90,000 & Live Section Free Bet with a value of ₹1,500 & ₹500 Free Bet for Sports Betting |
Pure Casino App
Once the Pure Casino app download is complete, you'll be able to experience the full gaming portfolio. Our mobile client will enable you access to top-tier games and many more!
You can start playing your favorite titles by depositing through the available banking methods: Visa, Skrill, EcoPayz, Netbanking, GPay, Paytm, PhonePe, UPI, Bitcoin, Etherium, and Tether. The minimum amount to deposit is ₹800.
To deposit & play casino, you need to:
Tap on the Deposit button.
Choose how much you wish to deposit.
Select the casino bonus promo you wish to redeem!
Pick a payment method: credit or a debit card, e-wallet, prepaid card, or cryptocurrency.
Fill in your banking details once you're redirected to your payment method app or webpage.
Confirm the transaction.
You're now ready to play with both bonuses & deposited funds!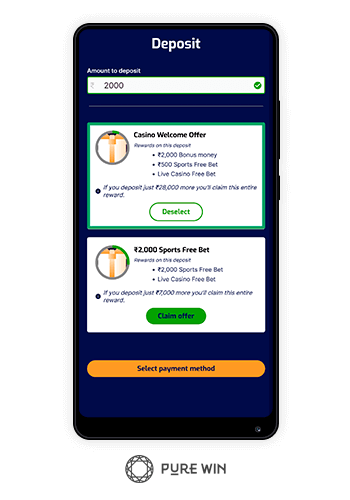 Pure Win Betting App
Our players will be able to make sports wagers through the Pure Win betting app. We have published odds for various sports, including cricket, soccer, tennis, basketball, baseball, boxing, ice hockey, rugby, and many more. You can place wagers on popular eSports too.
Once you have created your account at our platform, you can place a bet by following these steps:
Navigate to the Sports menu;
Tap on the sport you want to place a bet on;
Pick the specific sports event;
Pick a match;
Select one or more odds;
Fill in the sports betting voucher;
Choose a payment method;
Fill in the amount you wish to stake or use the free bet promo;
Confirm the transaction;
You've successfully placed your sports bet.
Features of the Application
We have developed the fastest mobile casino and betting program. Download it now and start placing your wagers.
Gambling license
Our software features a Curacao license and a fully developed mobile gambling library. You will have access to exclusive Indian game titles as well.
Great usability
Using our mobile program, you won't experience any loading issues, as all pages are ready and responsible within a few seconds.
Fast payments
The program will enable you to bank with your most preferred payment method, and you can save your banking credentials too for easier access!
Up to date notifications
You can opt-in to receive instant notifications from our software, and we will let you know all about our current and upcoming bonus promotions.
Customer support service
You can also contact our support from the program, and you will be given a prompt response.
Easy Access to wagers
Finally, you will be able to spin the reels or place a bet on your favorite cricket team within a few clicks, from anywhere, anytime!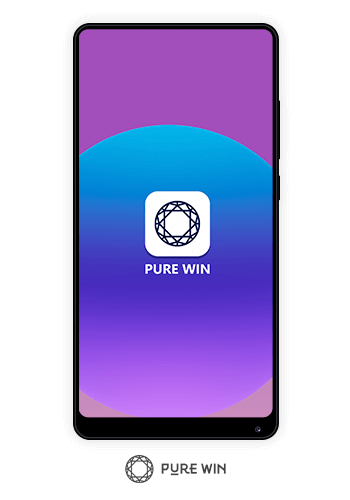 Differences Between the Application and the Website
The differences between gambling using the website and the app are not so extensive, although the mobile version has some advantages.
The main benefit of using our app is that you can access your account within a few clicks. It saves your login credentials, and you can access your favorite games by simply opening the casino on your handheld device.
Gambling through a website might require a login each time due to deleted cache and restored browsing sessions. You must use an up-to-date browser to access our website, and you won't be able to receive direct notifications.
Using mobile version will enable you to customize the casino and sports settings the way you want, choose the language of your preference, and you can opt-in for instant promotional announcements and reminders.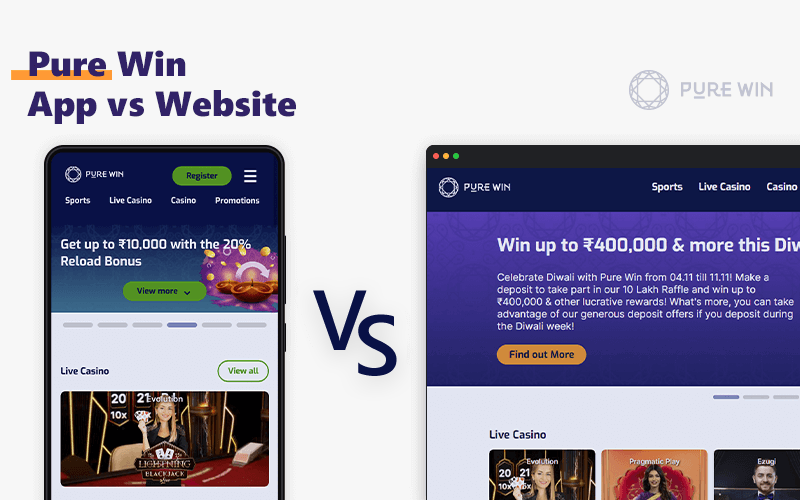 | Website | Application |
| --- | --- |
| No downloaded need | Installation is a must |
| Needs an up to date browser | Minimum system requirements |
| No updates required | Has to be updated |
| Fewer options to customize | Customizable |
| No direct notifications | Notifications Available |
| Stable & fast Internet connection | Less Bandwidth |
| Requires frequent logins | Log in once |
Both the Pure Win website and the mobile version will allow players a safe gaming experience, a variety of banking options, and access to the full gambling library.
FAQ
Is the Pure Casino app free to download in India?
Yes! It is completely free to download the software in India!
What should I do if I can not update the app?
If you can't update it, you should uninstall and then install the newest version of the app.
Can I download Pure Win via Google Play Store?
No. You cannot download Pure Win via Google Play Store.
Is there a bonus for installing the app?
Yes! You can claim the bonus promotions as soon as you log in via your mobile casino app!
Does the app have an online chat?
Yes! You can access the online chat feature and contact us from the mobile software. However, the option to chat with other gambling peers is currently unavailable.
Does the mobile app provide live casino games?
Yes! The software has the entire gaming library at hand, including live casino titles.